Host Leonard Lopate lets you in on the best conversations with writers, actors, ex-presidents, dancers, scientists, comedians, historians, grammarians, curators, filmmakers, and do-it-yourself experts.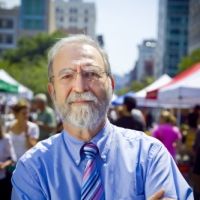 Leonard Lopate studied painting with Mark Rothko and hosted a gospel music show in the 70's and early 80's. He also marketed records for Slim Whitman and Boxcar Willie, and knows enough Cantonese to order the best dim sum in Chinatown.
rn
As Lopate tells it, one of his most exciting guests was a mob guy in the witness protection program, who worked for both the Colombo family and the FBI. "He came in for a taping on a holiday when there weren't too many people around...I think it was Columbus Day...He was flanked by two armed bodyguards. I was fighting a terrible cough that day, and in the middle of the interview, my throat got so raspy, I pushed myself away from the mike, stood up and announced, 'Stop the tape! I've got to get some hot tea.' The mobster took my abrupt movement to be some sort of signal to an assassin and he threw himself on the floor to avoid being shot. The bodyguard in the studio reached for his gun, another guard was outside the door. Luckily, no shots were fired, otherwise I might not be here, but every so often I think about that guest, and wonder if there will ever be a time when he'll feel secure enough to stop throwing himself on the ground."