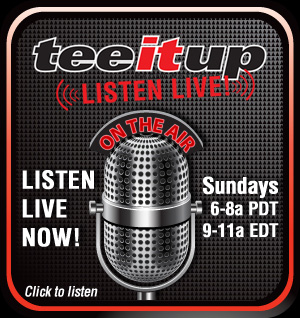 Largest Independent golf and lifestyle radio network in the US, now 17 years in the making, based out of Los Angeles. Syndicated across the US and Canada.
AMERICA'S #1 GOLF AND LIFESTYLE RADIO NETWORK, the Tee It Up Show continues to expand its reach nationally and touch golf fans every Sunday morning 6-8am PST / 9-11 EST. Now 17 years in the making, the Tee It Up Radio Network is reaching millions of golf and travel enthusiasts across the US including Hawaii and Canada. 

Hosts of Tee It Up include:
Alan Gottfried:

 An 18 handicap, co-founder of the network not to mention amateur to the game contributes by giving his opinion on the week's hot topics. Father to Adam Gottfried.

Adam 'AJ' Gottfried:

 An "inconsistent" SCRATCH golfer & co-founder of the network contributes by expressing his youthful insight to the game. Son to Alan Gottfried.

Kevin Smith:

 In addition to being a 5 handicap, he's a passionate Golf Historian bringing his knowledge of golf to the microphones.

Coach K. Tracy Roberts:

 World Renowned Golf Instructor, PGA instructor-Tee It Up's INSTRUCTIONAL COACH and founder of PLAY REAL GOLF.

Alex 'Foghorn' Fish:

 Executive Producer and National Sales Manager of the network who makes sure the magic happens in these fascinating two hours!
Contributing partners include the talent of the Golf Channel, PGA Tour, CBS Sports,and many more. 

Tee It Up provides the best golf content via radio thanks to some of their affiliations with Golf's biggest and most credible organizations. 

Favorite Tee IT Up Radio Network features include the following:
 Our economy and the best options for listeners to take advantage of…
 Interviews with celebrities from the world of music, film, TV as well as professional golfers & professional athletes with a passion for the game of golf
 LIVE Interviews with Tournament Directors during Final Round
LIVE Golf Instruction & Golf Tips with the PGA of America